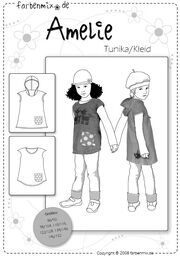 Pattern Notes
Edit
A versatile tunic or dress pattern, with optional hood.
Designed by Sabine Pollehn, released October 2008. Available in German only.
This pattern is the start of alphabet four!
Official links
Edit
Links to reviews/blog posts
Edit
[reviews, posts of finished garments, sew-alongs, etc]
Chris' AMELIE sew-along, written in German and English.
Sewing Notes
Edit
[your notes on this pattern!]
This is another beautiful, easy to sew pattern, just perfect for sewing beginners. The measurements for the sleeve cuffs and necklineband are sans seam allowance, you need to ADD the seam allowance just as for the pattern pieces! ARTig?! 14:08, 7 November 2008 (UTC)